Welcome to our Resources Page.
Here you will find the resources for the Parish Preparation Programme for Holy Communion and Reconciliation.
We try not to use the word 'First' in relation to the Sacraments, because what we are preparing is a lifelong relationship with the Sacraments. The preparation is for life not just for one day.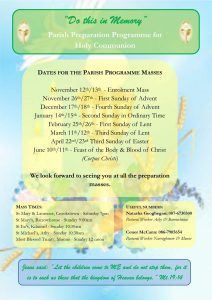 Here you can find the dates of all the preparation masses. Please note that attendance at these masses is seen as being the absolute minimum, if you are serious bout the Sacraments you would be expected to attend Mass every week as a family.
You can download a copy of the Enrolment Certificate for Moone, Kilmead and Crookstown.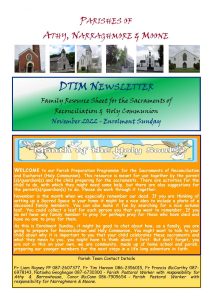 Here you will find the Parish Family Resource Page for Enrolment Sunday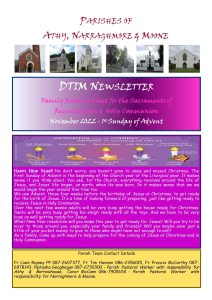 Here you will find our Family Resources Sheet for the First Sunday of Advent.