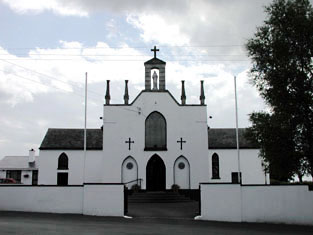 Welcome! While visiting our church we just want to remind you to continue to abide by the safety regulations.
Please:
-Wear face masks – it is mandatory except for the medically exempt
-Hand sanitise on entering the church
-Respect social distancing
| | |
| --- | --- |
| Sunday | 10.30am |
| Weekday - subject to change or cancellation without notice | 10am |
Saint Ita's Catholic Church is an important building due to its age (pre-dating Catholic Emancipation) and due to its inherent architectural significance. Composed on a T-shaped plan the elevations of the church are simple in treatment and rely on the displacement of lancet-arch openings for visual incident. The entrance elevation to north-east, however, is much varied and juxtaposes features such as blind openings and true openings to decorative effect. The gable is furnished with a parapet wall of unusual profile where the bellcote and slender pinnacles add variety to the skyline. The church retains many early features and fittings, including fenestration and a slate roof, while the interior is composed in a simple style in keeping with the treatment of the exterior. The church is prominently set in the village of Kilmead and is of social interest as the religious centre in the locality.