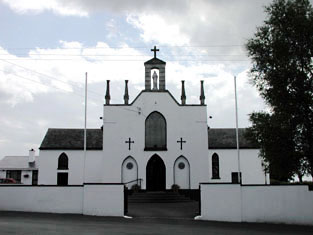 Welcome to the beautiful Church of St Ita in the village of Kilmead.
St Ita's is a chapel of ease of the parish of Narraghmore, having served the community here since the late eighteenth century. The faith community of St Ita's are justifiably proud of our church, we strive to keep it in good order, warm and well presented. Your support would be very much appreciated.
| | |
| --- | --- |
| Sunday | 10.30am |
| Weekday - subject to change or cancellation without notice | 10am |
Saint Ita's Catholic Church is an important building due to its age (pre-dating Catholic Emancipation) and due to its inherent architectural significance. Composed on a T-shaped plan the elevations of the church are simple in treatment and rely on the displacement of lancet-arch openings for visual incident. The entrance elevation to north-east, however, is much varied and juxtaposes features such as blind openings and true openings to decorative effect. The gable is furnished with a parapet wall of unusual profile where the bellcote and slender pinnacles add variety to the skyline. The church retains many early features and fittings, including fenestration and a slate roof, while the interior is composed in a simple style in keeping with the treatment of the exterior. The church is prominently set in the village of Kilmead and is of social interest as the religious centre in the locality.