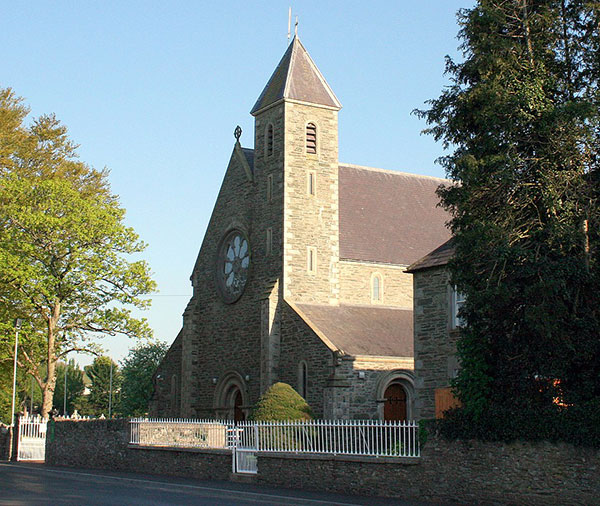 Welcome to the Church of Ss Mary & Laurence in Crookstown, the parish church of the parish of Narraghmore.
Set in rural south Kildare, with it's proximity to many fine receptions venues, the beautiful church of Ss Mary & Laurence is a popular church for the celebration of weddings.
The current church has been serving the parish community since the 1860's. It boasts a stained glass window in honour of Cardinal Paul Cullen, who was born close by in Ballitore. St Laurence O'Toole, who is co-patron of our parish, was born close by, just outside Castledermot.
The faith community of Ss Mary & Laurence make every effort to ensure that our church is warm and welcoming for parishioners and visitors alike, your support would be greatly appreciated.
| | |
| --- | --- |
| Saturday | 7.00pm |
| Wednesday & Friday | 9.30am |
| Holy Day Vigil | 7.00pm |
The Catholic Church of Saints Mary and Laurence is a fine and imposing building in the Hiberno Romanesque style that dominates the small village of Crookstown – the building is of social interest as the religious centre of the surrounding locality. The church is a good example of the reserved use of the style in question and is typified by solid, almost blank, wall masses pierced by small window openings. The north front, facing onto the road, is severe in its external expression and is relieved only through the use of a round-headed door opening and delicate rose window over – the slender quality of the engaged corner turret also serves to off-set the austere appearance, whilst also acting as an identifying feature in the landscape and skyline.
The construction of the church is of considerable merit and reveals a high quality of stone masonry where the crisp joints have retained their crisp appearance. The church has remained relatively unaltered since the time of construction and retains important early salient features, including fenestration and a slate roof – the retention of an early external aspect suggests that a noteworthy interior may remain intact within. Emphasising the monumentality of the church are the sparse, low-lying immediate grounds, off which the attendant grave yard contains a variety of markers of various periods and artistic importance. The gateway to the north is also of interest and is a fine example of early surviving cast-iron work.