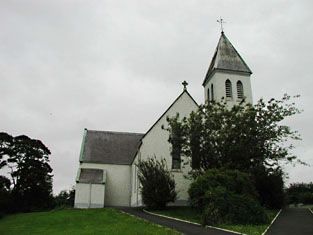 Welcome! While visiting our church we just want to remind you to continue to abide by the safety regulations.
Please:
-Wear face masks – it is mandatory except for the medically exempt
-Hand sanitise on entering the church
-Respect social distancing
Saint Joseph's Catholic Church is a an attractive building, in good condition, which is a prominent landmark in the locality, notably on the Kilcullen-Athy road. The church is simple in plan and appearance, with the walls articulated by simple pointed-arch or lancet window openings. The church is distinguished through the placement of a tower to south-east that articulates the skyline and which identifies the church in the landscape. The church is of considerable social interest, forming the religious or ecclesiastical centre of the region. Items of artistic interest include the stained glass windows to the nave walls and the gates to the gateway to south-west, which are also a fine example of early surviving iron work.