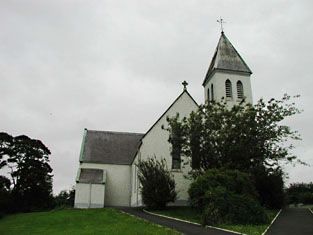 Welcome the church of St Joseph, Ballymount. St Joseph's is a chapel of ease of the parish of Narraghmore. 
The faith community work very hard to keep the church in good order. Is is a vibrant faith community who take great care and pride in the church. Keeping the church well maintained both inside and out, with beautifully appointed grounds around the church. To the rear of the church is a very popular grotto to Our Lady.
Your support for the church of St Joseph would be greatly appreciated.
Saint Joseph's Catholic Church is a an attractive building, in good condition, which is a prominent landmark in the locality, notably on the Kilcullen-Athy road. The church is simple in plan and appearance, with the walls articulated by simple pointed-arch or lancet window openings. The church is distinguished through the placement of a tower to south-east that articulates the skyline and which identifies the church in the landscape. The church is of considerable social interest, forming the religious or ecclesiastical centre of the region. Items of artistic interest include the stained glass windows to the nave walls and the gates to the gateway to south-west, which are also a fine example of early surviving iron work.